Past QBIN Scientific Days
Scientific Day 2022
The 2022 edition of the QBIN Scientific Day took place in-person on June 2nd at the faculty of medicine and health sciences of the Université de Sherbrooke and was attended by a record number of QBIN members! Highlights of the day included keynote presentations by our annual Rising Star in Bio-Imaging in Quebec Award recipients and our William Feindel Lecturer as well as flash talk presentations by our student and postdoc members. In case you were not able to attend the day in person, click here to find out what you missed and watch the keynote lectures by Louis Collins, Sylvia Villeneuve, and Hassan Rivaz!
Virtual Scientific Days 2021
In 2021, QBIN's annual Scientific Day was held virtually over three days due to the COVID-19 pandemic. The program included presentations from students and post-docs as well as keynote lectures by the 2021 William Feindel lecturer, Paul Thompson (University of Southern California), and the winner of the second edition of the Rising Star Award in Bio-Imaging in Quebec, Bratislav Misic (McGill University).
Click here to see the full program and virtual posters.
Read more about our 2021 Rising Star in Bio-Imaging, Bratislav Misic, on the QBIN blog
Watch the 2021 William Feindel lecture by Prof Paul Thompson entitled ENIGMA, Big Data & the Human Brain: Imaging & Genomics of Brain Diseases in 100,000 Individuals from 45 Countries on our Youtube channel:
Scientific Day 2020
In 2020 QBIN offered an innovative new format for its annual Scientific Day: 3 themes – 3 round tables – 3 poster sessions with power pitch presentations (1-2 min) by students. The network presented the very first Rising Star in bio-imaging lecture, given by Dr. Maxime Descoteaux from the University of Sherbrooke, and in the afternoon, the 14th William Feindel lecture given by Dr. Hedvig Hricak from Memorial Sloan Kettering Cancer Center in New York. The day ended with a wine and cheese social.
Click here to see the full program and abstract book.
Read more about this event on the QBIN Blog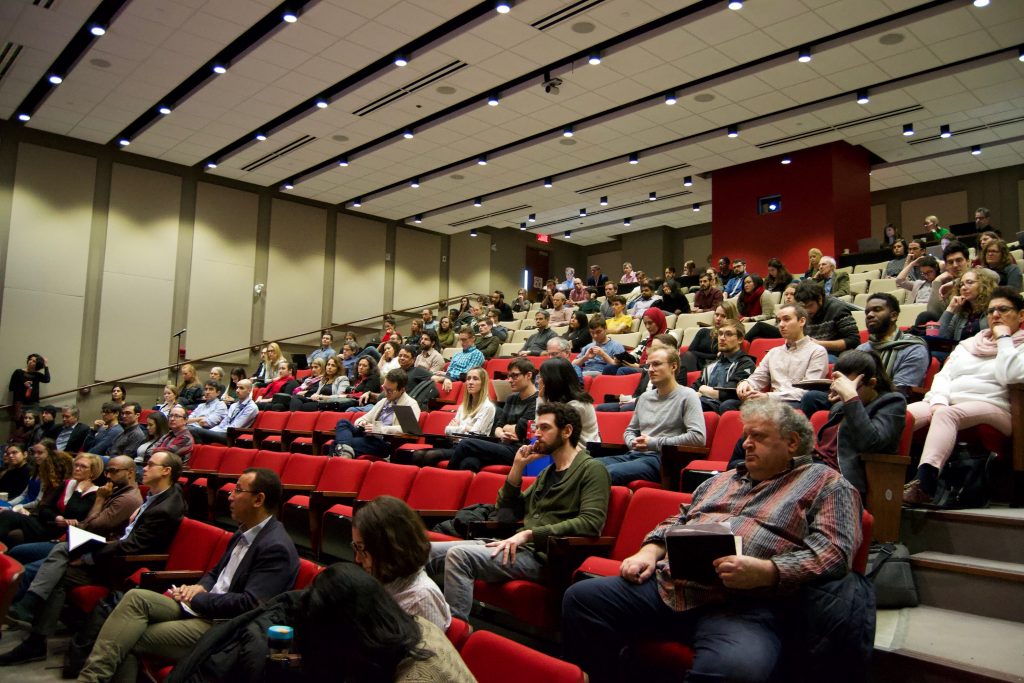 Scientific Day 2019
On March 29, 2019, QBIN hosted it's 11th annual Scientific Day at the Centre de recherche de l'Institut universitaire de gériatrie de Montréal. The event was attended by over 125 researchers, postdocs, and students.

Among many interesting talks on topics ranging from autism to cancer detection to artificial intelligence in imaging, this year's recipients of QBIN training abroad scholarships, Jérémie Fouquet and Shu Xing, gave presentations about their experiences in Jena (Germany) and Nashville (USA) respectively.
In the afternoon, 44 students had the opportunity to present their research results via poster presentations. Despite a rather unconventional format due to poster board being delivered to the wrong location, the poster session was very successful thanks to the resourcefulness of scientists, and seven prizes were awarded to the best posters.

During the general meeting of the network, the QBIN directorship was officially handed over to Dr. Martin Lepage and co-director Dr. Christine Tardif by founding former director Dr. Julien Doyon. In his inaugural speech, Dr. Lepage, who has served as co-director of QBIN for the past 8 years, highlighted Dr. Doyon's exceptional leadership and lasting contributions to the network. As a thank you gift, the network offered him a painting by artist, scientist, and QBIN member, AmanPreet Badhwar.

Finally, the 13th William Feindel Neuroimaging Lecture was given by Dr. Cheryl Grady of the University of Toronto on the topic of age differences in the dynamic range of brain activity and the implications for cognition.